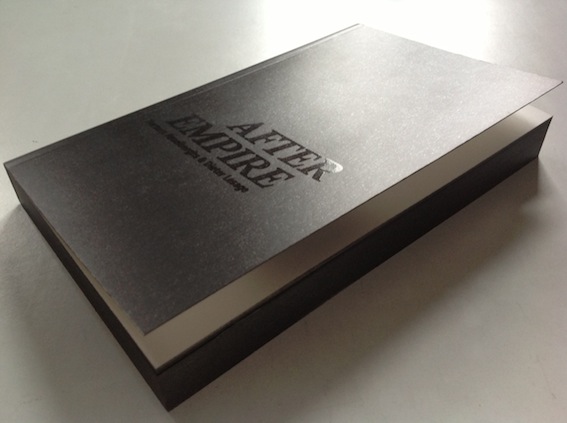 After Empire suggests an alternative for the iconic image
that collective memory has kept as the quintessential
moment of recent history: the hijacked plane hitting the
second tower. For artist Herman Asselberghs and philosopher
Dieter Lesage, this alternative to 9/11 would be:
February 15, 2003. On that day, 30 million citizens across
the planet marched against the unilateral decision by the
American government to start a pre-emptive war against
Iraq under the auspices of "the war on terror". It was the
greatest peace demonstration since the Vietnam war and
probably the biggest protest march ever to take place. The
war did happen, but this world day of resistance could
very well mark the beginning of an empowering history of
the 21st century: 2/15 instead of 9/11.
Browse through the book here: http://issuu.com/merpaperkunsthalle/docs/issuu
Read the book presentation by Emiliano Battista, at M, March 28, 2013
published by AraMER, an imprint of mer.
Paper Kunsthalle, Geldmunt 36, 9000 Gent,
Belgium www.merpaperkunsthalle.org
distributed by Exhibitions International,
Kol. Begaultlaan 17, 3012 Leuven, Belgium
www.exhibitionsinternational.org
executive production by Auguste Orts,
Brussels, Belgium www.augusteorts.be
book design Maaike & Fairuz garage64.be
with the support of luca Campus Sint-Lukas
Brussel, rits School of Arts (Erasmus
University College Brussels), M Museum
Leuven, Square Brussels.


This book is published at the occasion of
Blijven Kijken / Ce qui nous regarde / Dropouts
at M Museum Leuven, 14 02 13 – 12 05 13.
A group show curated by Pieter Van Bogaert,
including Herman Asselberghs' 2010 video
piece After Empire.
isbn 978 94 9069 394 7
D/2012/7852/145