pieter@amarona.be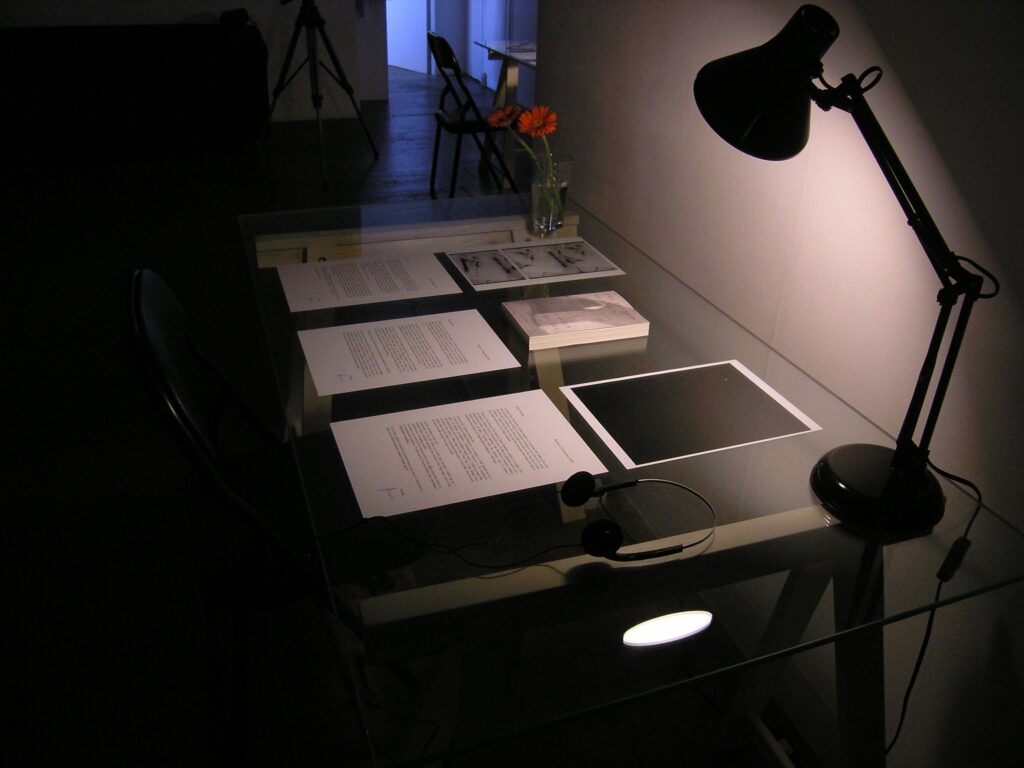 Not (simply) a collective
Auguste Orts in London
for h-art, (2008)
As individual artists, Herman Asselberghs, Sven Augustijnen, Manon de Boer and Anouk De Clercq are gradually conquering big chunks of the world. As a group, this is the first time they are venturing abroad, which they will do with 'Correspondence', an exhibition in LUX, which was launched with a screening and interview in Tate Modern.
In the communication of Tate and LUX, Auguste Orts was announced as a collective – a big word for a small organisation. And this requires, judging by the questions from the audience, a word of explanation. After all, Orts is, first and foremost, a group of individual artists – which transpired from the film programme in Tate Modern, with one film dedicated to each artist – individuals who also happen to be friends, not by coincidence – as is evident from the letters they used to send each other and which will be used as a basis for this exhibition.
Orts is, first of all, a structure in which these artists bring practical and other problems for the production of their work. This is more than simply four artists. A fifth person, Marie Logie, and an office, at the Beursschouwburg along Auguste Ortsstraat in Brussels, is there to resolve these matters of affinity and kinship.
Orts is also history. Even if the organisation has been around for less than two years, it is about what went on before, and the stack of work that each individual carries with him. Indeed, these files of own work form an inherent part of this exhibition, and also comprise the influences that have shaped this work, this individual, and still do, as well as the influences that others can identify in this work, as is obvious from the exhibition at LUX. This is how a network of relationships is formed, whereby the sum is much greater than the individual parts.
Cinema is important for these artists. This was evident from the screening at Tate Modern which – by way of prelude – preceded the exhibition at LUX. Four films were shown on a '1 artist, 1 work' basis. The exhibition itself, though, contains many references to the cinema. The thigh of Manon de Boer reminds Sven Augustijnen of a film by Jean Eustache: 'Une Sale Histoire' (1977). A work by Anouk De Clercq reminds Manon de Boer of a scenario by Marguerite Duras, and Manon de Boer herself reminds Herman Asselberghs of 'Window Water Baby Moving', an experimental film from 1959 by Stan Brakhage.
Correspondence(s)
'Correspondence', the title of the exhibition, refers to both the correspondence, the letters which the artists wrote to each other and those that are on display here on tables. The name is, of course, also an allusion to the many kinships, correspondences, between the different people.
Language is essential, as Dieter Roelstraete points out during the interview at the Tate Modern. Language plays an important role in each of the films. It is the subject of Sven Augustijnen's 'Johan', a portrait of an aphasia patient who needs to learn to speak again. It is an important element in 'Futur Antérieur', in which Herman Asselberghs gets his own young son to recite philosophical texts in a deliberately stilted manner. Just as important is the absence of language in 'Two Times 4'33"' by Manon de Boer (who frequently and explicitly works with language and dialogue) or in 'Building' by Anouk De Clercq.
Language is, of course, also the medium which these (media) artists use to write the letters, something they do in a very elegant, poetic, considerate and ever affectionate manner. In this too, there is an important reference to the history of the cinema, namely that of Nouvelle Vague – with references to Eustache, Godard and Duras, well represented in this exhibition – who started writing about films in the 50s before they started making them in the 60s. They did so with just as much respect and affection as these artists who made films first before they wrote about them.