pieter@amarona.be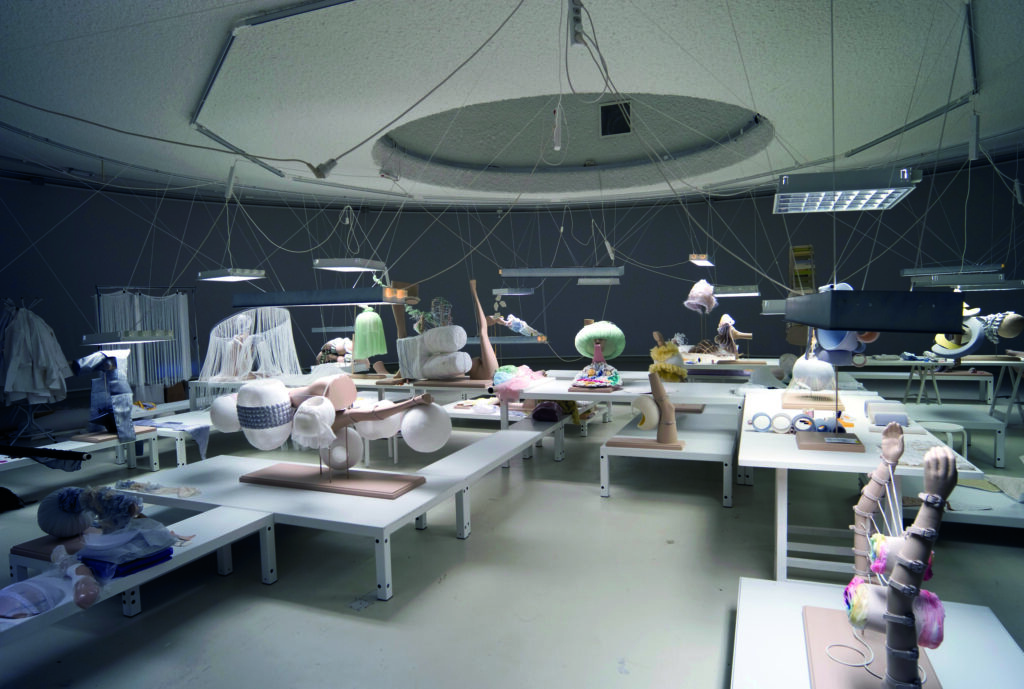 HIGH REFERENCES
In No References, Christophe Coppens, 2008
(NL)
When Christophe Coppens announces a haute couture collection , expectations run high. Certainly when he launches it under the title No References. A collections without references? That's impossible, you think. A fashion collection is reference. But it would not be haute couture if we let ourselves be brought to a halt by this. Fashion creates a parallel universe. One in which all current references appear each time to erase all the previous ones. That certainly applies to haute couture, the apex of fashion that invents itself each time anew and each time seems to throw all references overboard. No references? What does Christophe Coppens, himself not the least reference in the fashion world, mean by this? Let's look for an answer to this with a few yellowed memories and fresh observations, with some quickly found references and some that are far-fetched.
'Il était une fois'
Let me begin with a memory of a stately house. The Charlier Museum is an oasis in the bustle of the Brussels inner ring road. A bizarre place for romantic souls who want to step outside time for a moment. A gentleman's mansion in the strictest sense of the word: by gentlemen, for gentlemen. A place that, almost a hundred years after the death of the original owner, was rediscovered by Christophe Coppens. In 2001 he is at home here for a while. Like an absent host he greets his guests at the entrance with a scribbled note enlarged onto a plexiglass light box. The rest of the house – the stately salons where normally the old gentlemen's art collection can be admired – is dark and empty. The furniture, paintings and sculptures have made place for doll's houses. Imposing white pieces of furniture, on high goat's legs, with strange – how should I put it? Dantesque! – tableaux.
The museum is transformed for a moment into a theatre. And yet there are no musicians in the salon, no servants at the tables, no gentlemen in the armchairs. I am alone with these cabinets, a heavily melancholic soundtrack and myself. Alone and abandoned, I thread my way through this bizarre display, searching for the key to the spectacle. It begins to dawn on me that I am the only actor in this play. I feel I am being watched. I go in search of this hidden gaze, but only find traces, props, accessories, which tell me something about the absent host. A man of standing, that much is clear. With taste. And, in particular, with a great amount of feelings, too many for this already much too full and yet so empty house, too many for all those solitary visitors who were here before me and will follow after me. As though time is standing still.
A few days later I am received in the same house by Christophe Coppens. He as a flesh and blood host, I as the occasional editor of a cultural supplement for a Flemish newspaper. Each of is playing our role, as it should be. Gentlemen, each on one side of the oak table. He talks about the why and wherefore of this presentation, about the framework that he wants to create in this way for his accessories. An exhibition as a parade? A theatre as an exhibition? A designer as director? He talks about the history that preceded it. About the previous presentation in this place. About his training as a theatre director, about the first pieces he directed, where he was more concerned with the hats and other accessories than with the piece itself. I realise that the man who is mainly known in Brussels as a milliner (after the opening of his shop, not long before our first conversation), is actually a theatre maker who is concerned more with style and has thus ended up in fashion. I understand how this designer with too much feeling for drama has ended up in the museum and hence in the world of art. I remember the theatre as this young man's natural biotope. It is there that, at the age of sixteen, he presented his first book of poetry – in the City Theatre of his native city of Sint-Niklaas, where, like a director, he let the audience take their places on the stage, while he himself, as actor, disappeared into he auditorium.
A few weeks later we meet again in the men's toilets of the Kaaitheater studios. I had proposed you as co-curator for Access Code 121, a theatre programme about intimacy. Confrontational theatre, in which each visitor individually experiences different performances. Our first collaboration is the first opportunity I have to witness the creative process. From the first discussions with Agna, who took the initiative for the event (you wanted to build a little house and offer yourself as a prostitute in it) to the first visit (you opted for a audio tape in the cubby hole and an intervention in the W.C.) The realisation and the first meeting with Ann, who suggested that you use crêpe paper to dye the flush water and generally assist you if things didn't go as they should. I still remember the wooden cape that she made for your first haute couture collection…
'Système de la mode'
But where exactly are you now, my dear Christophe? So much has changed since our first meeting in the Charlier Museum. You opened a second shop in Brussels, with your own atelier prominent in the background. You expanded your business. You sell hats and accessories in the US (remember that you wanted to go to America after your first book of poetry came out?). You have a shop of your own in Tokyo and a hundred retail outlets in the rest of Japan. And it was not so long ago that you presented your first haute couture collection in Paris. So where do you stand now? It's undoubtedly a question that you regularly ask yourself. Where are you heading for, hopping between the theatre (your natural biotope), fashion (your second home) and visual art (where you'll always be an outsider)? A game of hopscotch that not only slims you down, but also constantly makes you put on weight.
Slimming and fattening: that's you all over. Confirming and denying. You are the person who can doggedly collect, but also regularly sells an old collection in order to start on a new one (whatever became of your legendary collection of plexiglass handbags?). And then put on weight again, so you forget what you've disposed of. You deal the same way with feelings. Sad? Make it sadder and it becomes laughable. Accessories? Turn it into theatre and it gains allure. Art? Make it into an accessory and it disappears into the decor. You're going round in circles all the time. You keep going back to square one, with a baggage that gets bigger and bigger. But also more efficient.
Now, with your third haute couture collection coming up, it's becoming a bit more radical. You want to go back to square one, but then without baggage. You throw everything overboard – all references within your own work, all references to books, to artists, all references within fashion, those of the material and its connotations, of the techniques, of the form. You want to take a new look at the reason why the accessory exists, its purpose. You want to use this opportunity to return to the essence of the design, to think and to search. The question is not: what can be different, better, more beautiful, more extravagant (you've already done that: it is not by chance that both your previous haute couture collections bear the title Dream Your Dream)? Not: what can still be left out or added. But: what is a colour? What is a form? What is an accessory? What is a fashion? What is a body? I realise that you want to reflect on your own work, to go back to square one, to zero. But it should not become history (too much knowledge). Nor psychoanalysis (too much ballast). Nothing, rien, nada… – just the essence, the bare necessities. All references overboard, then, and then see what happens. Allow things to live. Let your customers finish the work. Everyone – producer and user – equal. All power to the imagination!
I like to understand it as a philosophy of fashion, but then in practice. Back to fashion as instruction – as in mode d'emploi – that gives direction to doing, being, acting, experiencing… In short, the rules we (allow to be) impose(d) on ourselves – fashion as way (as mode de vie, way of life), but also as wisdom (as savoir faire). I can't resist thinking back to my student days and the influence of Gilles Deleuze: for him, philosophy was a matter of working with concepts, without references, prior to references: I understood it as a return to basics, to where things begin. It is very different and yet related to art, which works with percepts and affects: perceiving and feeling dominate the conversation (and that, of course, makes you an artist). For Deleuze, concepts were for philosophy what colours are for painting. In order to approach them, one has a need for modesty, hard work and a lot of time. Do I understand it properly, Christophe, if I say that you are searching for the scene of fashion, just as Deleuze was looking for the basis of philosophy?
But how, my dear Christophe, do you live up to that? How far back can you go? Are you, in your typical way, going to slim by putting on weight – an excessive ascesis? Will it become a sort of reversed overstatement? An understatement? Not transcendence, raising yourself – as a master, a star, an authority – above the material, but immanence; not elitism, but immersion, a submersion. Will it be a radical understatement? A lesson in modesty?
'No Space, No Choice, No Jobs, No Logo'
Your ambition for No References reminds me of Naomi Klein's No Logo. Her anti-sweatshop pamphlet and manifesto on globalisation at the end of the twentieth century sticks up for honest work, for artisanal labour. She writes from a loft where once the ateliers of Toronto's garment district bustled with activity. She counters the reference of her times: the logo of multinational clothing manufacturers. It is that 'outside' that Klein wants to make visible in her book about sweatshops in Asia, Africa or South America, where the labour for the Nikes of our world is outsourced. Maybe your aim is to attain something similar with this collection, this exhibition, this book? To bring the 'outside' inside and thus make it part of your work. To show so much 'outside' in your own typical style that it ultimately disappears in the process (just as sadness and love disappear in the process of The Dollhouse). It is a method that you actually tested out when you decided to install your atelier in your shop in Brussels. Or when you started with My Favourite Things, a collection of objects you gathered together from other shops or via E-bay and which you offer for sale in your own shop. Since you bring in your own references, they are no longer references; they simply become part of yourself. It all fits in with a confrontation with the place, the choice, the work and the name behind your creations, in a process in which your aim is to make your clientele part of yourself.
Another memory: Return to the Dollhouse in Z33 in Hasselt. The third instalment already, in other words a sequel, after Life Goes On in De Brakke Grond in Amsterdam. You show yet more of yourself, become more personal. You make endlessly repeated versions of Telkens Weer, the compelling tearjerker by Willeke Alberti. You film yourself in your bathroom, in your kitchen, in your bed… You already revealed a lot of yourself, of course, with the catalogue you made for The Dollhouse in Amsterdam: the photographs of you as a child, as a young man, your student days… But now you're there yourself, your vulnerable self: in the video and on the stage, your natural biotope. And yet they remain merely memories; when I visit the exhibition, you have already disappeared again – I see you still, but you're no longer there. This emphatic distance, this explicit inaccessibility, is crucial for what you are doing. It ensures that people keep coming back to your work, your creations, time and time again (as though they have always missed something). It means that people force an entrance to your head. Literally (you as clown in the museum, the star of the circus – the different rooms in your head like the rooms in the head of John Malkovich ) and figuratively (the various rooms in the museum; you left your traces everywhere, but we never manage to find you).
Now that I think about it, my dear Christophe, I can't help deciding that, strictly speaking, references are always already impossible. By definition they are inaccessible. It is always already something to which you can merely refer, but can never grasp. That makes references always already abstract, intangible, inaccessible. A reference functions as a code, like the colour of a paint. References are certainly impossible in fashion. Here everything continually changes (it has to change – that is intrinsic to the system). Here references are inextricably bound up with the process and the best designer is always one step ahead of them – as soon as the customer becomes familiar with the reference it has already been replaced by another. Do you want to reject references, or do you want to radically remove them? A flight from references, in other words. Just as so many people flee from their own desires. Is that it? A longing for the abolition of desire? A fashion that no longer wants to be fashion? Or is it rather an unbridled experiencing of your desire? A fashion that wants to surpass itself?
'I'm in the garden'
No references means no outside. It is the radical closure and hence the throwing open of haute couture, which once arose in the exclusivity of the balls and salons of the nineteenth century. For Eric de Kuyper, the system of fashion consists in the establishing of boundaries: there is an absolute boundary in fashion that decides what has to be covered (the sex) and what not (the face, the eyes). The boundary for fashion is the belt (the in/exclusion of what is always already part of the whole). Might such a boundary also exist for the accessory in this age of nipple and other piercings? And if so, what should then be the boundary? What the accessory represents? What it refers to? The place it is attached to? The usefulness linked to it?
Third memory: in Sissinghurst I saw you holding a notice board: 'I'm in the garden'. I don't think you had purchased it, or that you had bought the house of your dreams with this garden to enjoy. What you did bring with you from the trip – pieces of rope washed ashore, shells from the beach in Dungeness, close to Derek Jarman's Prospect Cottage, some remains from the burned down Brighton Pier… – turned up in your following collection: buttons, colours, textures… we made so many travel plans… You talked so often about Eurodisney, but we never went together to this parallel world inspired by Ludwig's castles in Bavaria. Nor did we ever go there, even though the Lonely Planet Guide to Munich & Bavaria, which you gave us as a present, has been lying for a while on our coffee table. Once, in an unguarded moment, I asked you to go with me to Palestine. I went on my own, but I did discover memories of my trip in your next collection: a Jewish yarmulka adorned with the typical pattern of the keffiyeh, the Palestinian scarf, or a keffiyeh with a faded pattern… The only place we went together to was Brighton. The city of the Royal Pavilion built by George IV, the English counterpart to Ludwig II… We travelled more in your head than in the world outside. Sometime you'll take me with you to Japan. We agreed on that a long time ago. The land of the void and significant simplicity, the land of the art of the fold and sophisticated packaging. – the land where, according to reports, they worship you and from whence you always return as though reborn.
Despite all the travels that you, Christophe, inevitably make as a businessman, I continue to see you as a sedentary refugee – very nineteenth century in fact, just like Ludwig who fled into the fantasy of his dream castles. Despite all your travelling, you are not the mobile nomad we're all presumed to have become in the twenty-first century. Was it, my dear Christophe, a lack of free time that caused our travels to barely take us further than Brussels? Strange, if you think about it. We as professionals in the leisure industry. Roland Barthes talks about this in Système de la mode: fashion and free time are inextricably bound up with each other. Wearing beautiful clothes simply doesn't go together with work, Buying fashion is almost equivalent to buying freedom. This sometimes makes fashion a sort of straitjacket, called leisure, a sort of uniform of freedom. Barthes calls it 'être du faire'. Those who buy fashion sell themselves; he or she becomes a model in the hands of the stylist. Being, in fashion, is not working but appearing. It is at once a personalisation and a depersonalisation. The fashion-conscious consumer buys a personality and a status. Age is such a status: fashion is supposed to make and keep you young. I can also tell this from the photographs in the catalogue for The Dollhouse. The photographs of your younger self suggest that you too use (your) youth as inspiration, as 'mode de vie'.
'I want to see you!'
All that work means that you yourself are becoming an accessory, and perhaps this is what you are aiming at with No References. Maybe you want to put yourself aside for a moment, dissolve into your surroundings, become insignificant, become part of… How far can you go and still be seen as a designer? Perhaps you want to become a viewer (reader, user) yourself and put your public to work as designer. A radical reversal of fashion: you give yourself a bit of free time and pass on the work to the customer. Inevitably you then turn yourself into a medium: an intermediary for colours and forms, an instrument for the user to design herself and her environment. An indicator: My Favourite Things.
Fourth memory: your exhibition about Belgian fashion in Amsterdam in 2004. What lies beneath. An exciting and yet quite ordinary title. Since looking for what lies beneath fashion (what you actually did was show your favourite things and thus the references of a number of Belgian designers – in this way you gave shape to the starting point of the exhibition, which was meant to find out how designers see) meant simply that you raised yourself above your colleagues for a moment. You as intermediary, as a director in the theatre (your natural biotope), as medium, next to the visitor on the catwalk, as model. Working with the work of others. The footbridge, the well, the catalogue with all the correspondence, lists, coupons in the run up to the exhibition – a loose mountain of paper to put together oneself. As though you can't (or are unable?) to finish off something yourself, this catalogue seems indeed a distant preamble to No References, a book/exhibition/collection as process. And maybe that fits perfectly well into a logic that says that your creations are only really completed by the customer who brings them to life by wearing them.
What you did then in Amsterdam was actually create an environment. It's something you've always done. In the City Theatre in Sint Niklaas you created an environment for the readers of your poems. In the Charlier Museum you created an environment for your accessories. In Amsterdam you created an environment for your fellow designers (and their public). 'The Medium is the Message', you seem to be saying, echoing Marshall McLuhan. McLuhan, who understood better than anyone else that the medium was an environment and that the advent of the electronic era of radio and television was no more than a return to the tribal acoustic space of primitive (in McLuhan's words: pre-literate) man. Through specialising in the creation of spaces, through pushing yourself forward as a medium (as designer), you have actually become radically mediocre. You are more than a reference, still merely an intermediary, always in transition.
It's strange that as an environment artist you have such an aversion to drugs. You are certainly a flaneur, but you've never followed Benjamin in using consciousness-expanding means. You cut and paste but, in contrast to Burroughs , always in a controlled manner. You began as a poet and became an artist, but that's as far as the comparison with Michaux goes. You work for the rock band Chicks on Speed (on what?) or for the pop icon Roisin Murphy, who concludes the live version of Tell Everybody at the Lowlands Festival – in which she uses one of your creations as a mask for her face, as a hat on her head, as a friend under the arm and as a fan in the hand – with the well-intentioned 'Legalize Ganja'. You are a master in recognising the abnormal in the normal, in making visible, tangible, palpable what is invisible, intangible, impalpable. You may well refuse to state references, but you do provide a new norm (a normalising). It is the director in you that holds you back from the uncontrolled experiment.
'Le décolleté des femmes n'est pas un coffre-fort'
Let's return to the body, to the woman in fact; the ladies as the missing object of this world of Men and, as Chanel would also maintain, to this coffre-fort that we should cherish, protect, allow to speak. There, with the body, everything begins and ends. It is the limit that we can never leave behind us. Do you remember the parade of models at the end of Altman's Prêt à Porter? And do you remember in the same film the Parisian dogshit sticking to the soles of the fashion designers, like a constant reminder of the physicality of this glittering world? It was all about the body and how uncomfortable we make it. About searching for uniqueness in the media age in which everyone is looking at each other and wants what the other has. No black clothes that always fit well and thereby become quasi invisible. No white ones either (like those worn by the babies in the film), but nakedness in all its colours, the innocence of childhood.
It seems strange, but the body is actually always absent in your work. It is the absent host in the house of Charlier, the inhabitant of the burned down house, it's the models in that Elle reportage who became accessories among the accessories; it is the theatrical arrangement of the haute couture collections in the Belgian embassy or in the Théâtre des Champs Elysées in Paris. In your case it seems to be more about love, about desire, the eroticism of the inaccessible body (that's how I got to know you: after the broken love affair that inspired you to create The Dollhouse at Charlier). It's about the classic man-woman image that these decors, clothes and accessories refer to. Classic, as in Hollywood films from the thirties, forties or fifties. A past period of long-vanished (but never forgotten) bodies. Is it a coincidence that this period ends at the moment the period of 'no references' begins? More specifically, the fifties of music without music (John Cage's 2'33"), imageless images (Robert Rauschenberg's White Paintings) and film without film (Guy Debord's Hurlements en favour de Sade).
'Étonnez-moi'
Last memory: your first haute couture collections in Paris – Dream Your Dream. Finally you can go full out and show what you're really capable of. Your first presentation in 2005 in the embassy. Your accessories are sculptures. Sleeping, waking and falling asleep again, the moment in between and the memory of it are your inspiration. But also the woman in motion. And animals. A tiger as scarf, a deer as cape, a snake of billiard balls, a dog as bag (I'm reminded of the collier de chien, the collar that was so popular in the nineteenth century, immortalised in Manet's Olympia – your historicism surpasses tradition). Your second collection in 2006 in the Théâtre des Champs Elysées (the theatre – your natural biotope). Your hats are like canvasses, bearers of scenes. Your paper accessories – very Japanese and fragile. This comes out of the laboratory of haute couture. This is haute couture as demonstration: showing what you are capable of (techniques, imagination…) and what it is capable of (expensive materials like silk and cheap ones like paper). Another world is possible, even if only for an evening (or an afternoon).
And now what? It is the inevitable question that keeps recurring. What's more to be done? How much further can you go? You've shown what you're capable of. But perhaps there's still something to be shown of what fashion is capable of? And for that, of course, you have to be in haute couture, the apex of fashion. With the fashion that goes beyond (timebound) fashion(s). But is that correct? For is not haute couture completely passé? And is what once existed as exclusive fashion for high society now merely for the nouveaux riches? Haute couture is like a relic. A protected title for major houses like Gauthier, Dior and Chanel, which evolved from something that suited a class to a class that you can buy. It shows the anachronism of fashion: in time (foreseeing) and behind the times (limping after).
Perhaps, my dear Christophe, the answer to the question that is playing tricks on us here – how do you get beyond references? – indeed lies in the theatre, your all too often emphasised and yet too often forgotten natural biotope… Perhaps we should simply combine the question that dogs you with the place in which you keep ending up: put the people themselves on the stage, make the visitor an actor, the user a director. Make your public part of the process and become purely a reference yourself. Your role consists in showing people the way through your work. For if haute couture is the laboratory where the clothing industry can refine and preserve old techniques and invent new ones, then its public is probably its best analyst. What you are in fact doing with the title of this ambitious project is to create, once and for all, a definition for fashion that is both simple and effective. Essentially, there are no references. There is no outside. The only reference is fashion itself. All the World's a Stage. And we, the wearers of your creations, are the actors. All the rest is totally irrelevant.
Pieter Van Bogaert,[38] Brussel, Summer 2008
Bibliography
Mark Alizart (red.), Traces du sacré. éditions du Centre Pompidou, Parijs, 2008
Herman Asselberghs, Els Opsomer, Pieter Van Bogaert, Time Suspended. Square, Brussel, 2004
Roland Barthes, Le degré zéro de l'écriture. Seuil, Parijs, 1953
idem, Système de la mode. Seuil, Parijs, 1967
idem, Le bruissement de la langue. Seuil, Parijs, 1984
Walter Benjamin, Über Haschisch. Suhrkamp, Frankfurt, 1977
William Burroughs, Junkie. Ace, New York, 1953
Lewis Carrol, Alice's Adventures in Wonderland. Penguin Classics, Londen 1984 (1865)
Christophe Coppens, Life Goes on – The Dollhouse II. De Brakke Grond, Amsterdam, 2002
Guy Debord, Œuvres cinématographiques complètes. Champs libre, Parijs, 1978
Gilles Deleuze & Félix Guattari, Qu'est-ce que la philosophie? Minuit, Parijs, 1991
Walt Disney, Jungle book. Random house, Londen, 1989
Michel Foucault, Dits et écrits I, 1954-1975. Gallimard, Parijs, 2001
Amira Hass, Reporting from Ramallah. Semiotext(e), New York, 2003
Derek Jarman, Derek Jarman's Garden. Thames & Hudson, Londen, 1995
Catherine Join-Diéterle e.a., Robes du soir 1850-1990. Paris-Musées, Parijs, 1990
Naomi Klein, No Logo. Flamingo, Londen, 2000
Eric de Kuyper, De verbeelding van het mannelijk lichaam. SUN, Nijmegen, 1993
Tony Lord, Planting schemes from Sissinghurst. Frances Lincoln, Londen, 2003
Amandine Maziers e.a., L'oeil et la main. Éditions du collectionneur, Parijs, 2005
Marshall McLuhan, Understanding Media. Gingko Press, Corte Madera, 2003 (oorspr. 1964)
Idem (met Quentin Fiore), The Medium is the Massage. Gingko Press, Corte Madera, 2001 (oorspr. 1967)
Henri Michaux, La vie dans les plis. Gallimard, Parijs, 1965
Henk Oosterling, Radicale middelmatigheid. Boom, Amsterdam, 2000
John Peacock, The Complete Fashion Sourcebook. Thames & Hudson, Londen, 2005
Edward Said, From Oslo to Iraq and the road map. Pantheon, New York, 2004
Elias Sanbar, Les Palestiniens. La photographie d'une terre et de son people de 1839 à nos jours. Hazan, Parijs, 2004
Andrea Schulte-Peevers e.a., Munich & Bavaria. Lonely Planet, Londen, 2005
Marie Simon e.a., Les métiers de l'élegance. Éditions du Chêne, Parijs, 1996
Susan Sontag, On photography. Penguin, Londen, 1979
Blanche Thibaut, Jean de Heinzelin, Onbekende schatten uit het Charlier Museum. Musée Charlier, Brussel, 2003
Eyal Weizman. Hollow Land. Israel's architecture of occupation. Verso, Londen, 2007
Oscar Wilde, The Picture of Dorian Gray. Penguin Classics, Londen, 2006 (1891)
---
[1] There is a difference between couture and haute couture. The former refers to the art of sewing or of dressmaking in general, while the latter refers to a tradition that goes back to the nineteenth century, whereby clothing is produced and custom-fitted for individual clients. Today it is a protected name. According to the regulations of the 'Chambre de Commerce et d'Industrie de Paris', only those houses that belong to an annually updated list are entitled to avail themselves of the label. The criteria for inclusion in the list are, among others, that all the clothing is produced in one's own atelier, that these ateliers employ a minimum of twenty persons, that the collections are presented two times a year on a catwalk with at least fifty different runs and at least three different models. Christophe Coppens does not meet all these criteria and is not on the list of houses that are allowed to use the label.
[1] Thierry Mugler, in: Catherine Join-Diéterle and Valérie Guillaume, Robes du soir 1850-1990.
[1] 'The House of the Dying Mermaid', 1997.
[1] On the cover of a book by Roland Barthes.
[1] You're like Princess Metternich who, as a fan of Marie Antoinette, decided to renew her wardrobe twice a year, but not without selling her old costumes, mostly to wealthy Americans. See Join Diéterle and Guillaume, Robes du soir, p. 24.
[1] Something like Roland Barthes who begins his body of work with Le degré zéro de l'écriture?
[1] The 'great nothing', the highest reference, as was demonstrated recently by artists such as Fontana, De Cordier and Goya in Traces du sacré in the Centre Pompidou in Paris. 'In fashion', says Barthes, '"nothing" can signify "everything."' 'Nothing' refers to the meaningful detail, in other words to the accessory, which is your strong point and which thus becomes the essence of fashion. (Système de la mode, p. 247).
[1] Remember Disney's Jungle Book?
[1] L'imagination au pouvoir? Is it not significant that you, Christophe, born in 1969, at a moment when, precisely because of the events of May '68 and its primacy of the imagination, fashion was dominated by an unbelievable chaos – everything was possible, after the futurism and eternal youth in Barbarella (Roger Vadim, 1961), Alphaville (Jean-Luc Godard, 1964) or 2001 A Space Odyssey (Stanley Kubrick, 1968), nothing was compulsory… Is it not precisely this imagination that, luckily for you, ruined fashion? And is it not significant that you made your first steps in fashion at the moment it exploded in the big shows by Mugler, Chanel and Gaulthier at the end of the Eighties? The period of the créateur-artiste!
[1] And since we're now talking about French philosophy, there was once a time when it went hand in hand with Parisian fashion, when couturiers and philosophers met together, along with writers, musicians and other creative spirits. Boris Vian describes how that went, in the years just after the war in the Club du Tabou in Saint Germain des Prés. It was there that Sartre, Queneau, Merleau-Ponty and Camus would listen to the music of Charlie Parker, together with Dior, Balmain, Fath and models with names like Praline, Annabel, Sophie and Bettina (where was Simone de Beauvoir actually sitting then?). Do you remember that scene in Funny Face? Kay Thompson behind the piano and Fred Astaire with guitar (and beard!) in a Parisian club? That's more or less how it must have looked in Vian's time… Has that time gone for good?
[1] Naomi Klein, 'No Logo'.
[1] In the neighbourhood around the Dansaertstraat, which has gradually grown into a sort of gentrified garment district for the Brussels inner city.
[1] Being John Malkovich, the 1999 film by Spike Jonze.
[1] On a notice board in Sissinghurst.
[1] 'Il faut de l'exclusivisme à ces réunions pour garder leur cachet' (L'art de la mode, 1881, t. 1). This absence of the outside makes haute couture, and in fact current fashion, the true heir of Marie Antoinette – certainly the fashionable Marie Antoinette (the sneakers! the pop music!) as depicted by Sofia Coppola, unsurpassed chronicler of the 'cocoon' generation, for whom there is long since no outside any more (the bedroom in The Virgin Suicides, the hotel in Lost in Translation, the golden cage of Marie Antoinette).
[1] 'The erotic game that Fashion plays is to gratuitously announce what is or is not taboo; at a certain moment it strictly prescribes what is a sort of limit.' (Eric de Kuyper, De vebeelding van het mannelijk lichaam, p. 68).
[1] Or is the accessory itself a boundary?
[1] Jarman maded a book about it and in 1990 a film as well, The Garden.
[1] Palestine, of all places. What a reference! The promised land of yesteryear that for sixty years has resisted becoming the forgotten land and therefore THE reference point for all those peoples, wherever in the world, that are in danger of being pushed off the map. Perhaps that's why you decided not to accompany me. Because this is the reference that proves that wiping it out only makes it stronger. Check it out in the books by Edward Said, Elias Sanbar, Amira Hass or Eyal Weizman and all those other authors who prove that a wall and masses of border crossings (when I was there, they were still called check points) only make a country exist even more!
[1] What an inaccurate reference, this twenty-first century! The century of 'now here' as an inverse Utopia. The refugee, the forced nomad, is the paradigm of twenty-first century society: leave everything behind and start over again. Because of this utopian approach, fashion is bound to time and place. No references as a new Utopia? As a nowhere or a now here (cf. Deleuze & Guattari, Qu'est ce que la philosophie?, p. 95-96)? Now, immediately, directly, and later different again… no end, no goal, but always a new beginning, a new start. Like fashion, the essence of fashion. But then radically without references: radical fashion.
[1] The Dollhouse: where Alice meets Dorian Gray!
[1] As Kay Thompson says to the designer in Funny Face.
[1] And thus erase yourself; cf. Barthes, 'La mort de l'auteur', which can be summed up as: the death of the author is the birth of the reader; or Foucault: 'Qu'est ce qu'un auteur?'
[1] The most extreme example: your colours and templates for the paint manufacturer Levis.
[1] 'Understanding Media'; a bit later it becomes 'The Medium is the Massage', with Quentin Fiore.
[1] Henk Oosterling, Radicale middelmatigheid.
[1] Über Haschisch, 1972.
[1] The Exterminator, 1960 (with Brion Gysin)
[1] Apparitions, 1946.
[1] View it at http://www.youtube.com/watch?v=dMrisADbWzA
[1] But the next day you're ready to put Princess Mathilde at the top of Vanity Fair's list of best-dressed women.
[1] Gabrielle Chanel, L'oeil et la main, p. 167.
[1] The body that disappears into the folds of fashion and was recently made visible in a typically shocking manner in Toscani's photograph for the Milan fashion fair of the anorexic model Isabelle Caro. This body becomes emaciated and diminished until it disappears. Disappearing body, repudiated body, the body than nobody wants to see any more; with that picture of Caro I can't help thinking of the gaunt bodies of the Jews in the concentration camps. It is these bodies that should teach us to see and feel again (it is these pictures, more specifically those of Bergen-Belsen, that made Susan Sontag think about photography in a very concerned way in On Photography). I think of 'I had a house, It burned down, I saved some memories'; the house that is no longer, with all its stories and memories.
[1] Cf. The childhood reminiscenbces in The Dollhouse; cf. Your predilection for Disney, Willy Wonka, etc…
[1] Jean Cocteau, cited by Christian Lacroix in L'oeil et la main.
[1] La Cage aux Folles –one year before the bomb explodes.
[1] Shakespeare, As You Like It.
[1] Pieter Van Bogaert (born 1962 in Sint-Niklaas) first met Christophe Coppens (born 1969 in Sint-Niklaas) in Brussels, where he works as a critic and curator. He is currently preparing a book and an exhibition about the philosophy and practice of representation.