pieter@amarona.be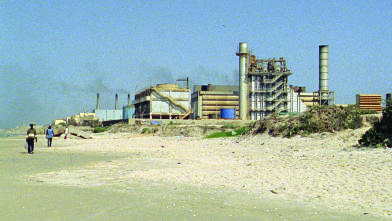 Looking until there is nothing left to see
_imovies_ by els opsomer
in <H>art, 2006
Els Opsomer travels a lot. Along the way she makes friends and, as an artist, she also takes a lot of pictures. Every now and again these pictures and those friends meet again, in a new work. Over the last years this often results in videos, by the title of _imovie_. The first three of the series will be presented together for the first time this summer at MAC's Hornu.
The name _imovie_ is, of course, a reference to the video software Apple supplies with its computers. It is part of the 'iLife' package with applications for 'iMac' to 'iPod'. To Apple the i is really still a reference to the internet era and the software helps users to organize their digital world. But in the case of Els Opsomer the tiny i covers quite different things.
The i could stand for zooming in, because that is what she does with her photos. She puts them under the scanner and she subjects them to thorough research. By taking out fragments she tries to grasp and understand those things that are wiped out by our memories. What remains underneath all those details, is a highly personal impression. This is what makes these _imovies_ i for intimate.
Or maybe it is the i of intermediary? The images in '_imovie [one]_: the agony of silence' (2003) not only refer to a Palestine trip, but also to the media images she is confronted with at home. Because of that this is the most identifiable video; it refers to a situation we are all familiar with.
Or are we? After all, these videos effectively focus on the major difference between the world around us and the distant world – between the inner and the outer world. Here the i is short for imaginary. When Opsomer sets out to Sao Paolo for '_imovie[2]_: in-between/shifting' (2004), she films as if she were an alien, a total outsider, struggling to break through the walls of this city of millions. We do see people, silhouettes, lives… but always tiny, from a distance, blurred.
Els Opsomer shows the difference between a body and a photo. Between what is tangible and intangible. Between performance and imagination. Her work is about images, ideas, worlds she always has to bring into agreement in order to keep functioning. It is about the way she relates to her surroundings. This provides the _imovie_ with the i of identity – the inevitable capital English I.
In '_imovie[3]_: silver lips/for me' – presented by MAC's in a preliminary version – Els Opsomer makes use of images from Senegal. It is her most personal film. Everything revolves around the body of the beloved, waiting there for the right paperwork to travel here. Word and image, idea and reality, theory and practice, white and black: never did they seem further apart than in this video letter. These pictures are no longer investigated; they are eagerly groped. Until there is nothing left to see.