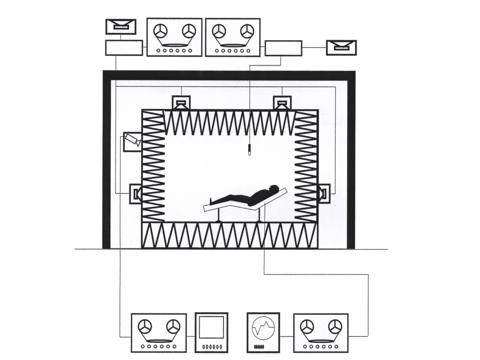 A_ZONE
Let us start with the A of antechamber, a place to prepare ourselves for the images that will follow. A starting point that at the same time can be a finishing point; a place to recover. Two monumental art works as prelude and as point d'orgue.
Laat ons beginnen met de A van antichambre, met een ruimte om ons klaar te maken voor de beelden elders in het museum. Een begin dat ook een einde kan zijn; een ruimte om op te warmen en te bekomen. Twee monumentale werken als prelude én als orgelpunt.
Rob Moonen & Olaf Arndt (NL / D) – Camera Silens, 1994, mixed media
This impressive installation forms a climax (or anti-climax) to all this audiovisual activity. After the flood of sounds and images visitors enter Rob Moonen and Olaf Arndt's quiet room to be confronted with the reality of their own body: their own heartbeat, blood circulation and nerve bundles, but also with the real­ity of the silent camera suspended inconspicuously in the room, which records every movement and sends it to the monitor in the exhibition hall. No one escapes the image of excess. Nowhere.
Een indrukwekkende installatie als (anti)climax bij al deze audiovisuele activiteit. In contrast met de stroom aan beelden en geluiden elders in het museum, wordt de bezoeker in de stille kamer van Rob Moonen en Olaf Arndt geconfronteerd met de realiteit van het eigen lichaam: met de eigen hartslag, bloedsomloop en zenuwbanen, maar ook met de realiteit van de stille camera die discreet elke beweging registreert en doorstuurt naar de monitor in de tentoonstellingszaal. Niemand ontkomt aan het beeld van exces. Nergens.
(see also Rob Moonen: 10.000 names)
www.robmoonen.nl
www.bbm.de
Kendell Geers (B) – Deep Throat, 2002, video projection on mirrored ball
A scene from the seventies porn classic Deep Throat, projected on a slowly revolving mirrored ball, envelops the visitor in hundreds of silent images that gradually move around the walls. This disco dream has long past its climax. What remains is a party without sound. Porn without focus. A fragmented memory. The trance of repetition. The emptiness after the excess.
Een scène uit de seventies pornoklassieker Deep Throat , geprojecteerd op een traag draaiende discobal, wikkelt de bezoeker in honderden stille beelden die langzaam over de muren glijden. Deze discodroom is lang over haar climax heen. Wat rest, is een feest zonder geluid. Porno zonder focus. Een gefragmenteerde herinnering. De trance van de herhaling. De leegte voor/na het exces.