pieter@amarona.be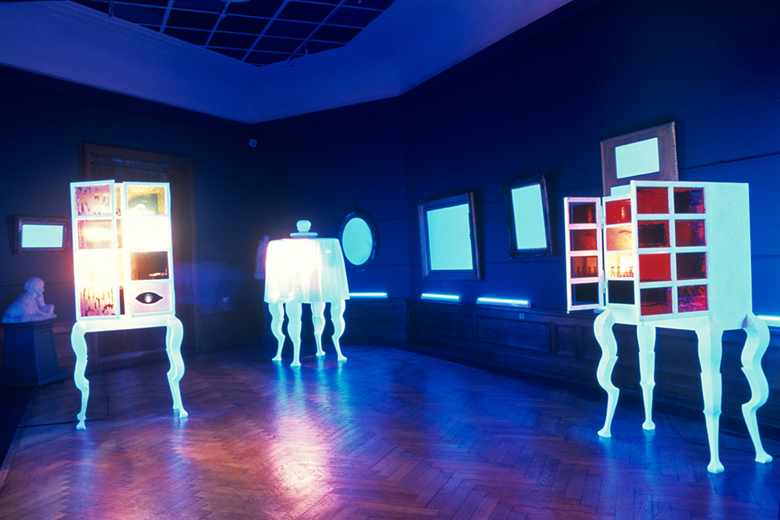 FEAR AND DESIRE
Christophe Coppens – Life and death in the dollhouse
(2002)
(lees verder in het Nederlands)
The scene was a nineteenth century mansion in the shadow of the Madou Tower in Brussels. It is about a year ago now, there was a stiff frost, when I met Christophe Coppens for the first time. At that moment the Charlier Museum was the setting for his newest creations.
Of course, I had heard of the Brussels fashion designer before. I used to look in the shop windows of his shop on the corner of Dansaertstraat. A shop very different from the other exclusive businesses in the same street. You would rarely meet anybody in there. Perhaps, because of the construction of the house, with its false walls which seemed to hide secret rooms. Perhaps, because of the strange objects in the shop window. What did they sell in here? Head coverings? Accessories? Or was this just decoration? Were the goods somewhere else? Was it a shop at all?
I had also heard of the Charlier Museum. I had been there a few years before. Now I realize that I was then wondering the same thing as I did looking at the shop in the Dansaertstraat. Was this a museum? I was the only living soul inside, just as in the shop. No guards in sight. I did not know what to look at first. At the forgotten works of painters and sculptors from a suppressed past? At the furniture, too exotic to be true? At the house itself with its aristocratic character? It looked like the ideal movie set: a house to live in, but preserved. These rooms do not reveal much, they tickle the imagination. The absent host
The Charlier Museum is an island in the city, a piece of history, well-hidden between modern office buildings. A spot with a story. The story of the Brussels maecenas and art-lover Henri Van Cutsem. In 1890 he asked the young architect Victor Horta to reconstruct his house in order to be able to show his art collection. After Van Cutsem died, his friend the sculptor Guillaume Charlier inherited the house. Charlier housed his own collection in it. Later he would donate the mansion to the Brussels municipality Sint-Joost, which still runs it. The museum is being managed in a rather unprofessional way. Fortunately, one could say. Without his will the visitor is left to his fate — and that is how it should be. It is as if you are staying in a private house in the midst of furniture, paintings, Chinese objets d'art and utensils made of silver and porcelain, waiting for the host. Everything is there, as in a real mansion: a piano in the drawing room, a dining room, a bedroom, a study and a library.
When Christophe Coppens takes over the house, it is still all the same, but in the superlative. Objects are put into a setting, into a story. The bright white cupboards on the ground floor are evidently part of the exhibition. Upstairs, where daylight comes through the windows, it is already more difficult to distinguish which objects are from the new host and which from the former owner. New accessories lay amidst those of the former inhabitants. Some objects, such as the huge pillows are visibly quite new. Some are still in boxes, ready to be unpacked. But then, questions arise again: is this fashion? Or is it art? Is this a dream or is it reality?
On the exhibition floor it looks as if a party has just finished. At the top of the stairs you find empty bottles, a glass and an empty bag of salty biscuits — crisps from Marks & Spencer. Judging from the garbage, there have not been many people — probably not more than one. A box of Revitalose lies amidst piles of newspapers and magazines. Cuttings and shreds on the worktable. And clothes everywhere, as one might find in a bachelor flat.
The stuffed poodle at the top of the stairs and the porcelain dish stand on the writing desk date from a previous collection. Apart from these, only new creations were left behind. There is a paper-knife, which cuts on both sides: one for good news, the other for bad news. Everywhere are heads: sometimes in the form of crystal vases, sometimes of big candles and sometimes even of cane tables. All ambiguous objects. The question Coppens here asks is: why can't a feeling, which runs to the bone and which you shake off again after leaving the movie theatre, be put into an object which is permanently present in your house? Like the feeling you get when you have to move a candle, which is actually a head. Or the feeling when you shake up a pillow, which appears to be a body. A romantic drama
Christophe Coppens received me in this house as though he was living there. Actually, it was almost like that, at the time. It was the second time he had used the museum to show his works. He once exhibited a collection of pieces there, the wreckage of a burned house. Memories played an important role in it. Charred objects, but also remade or even improved objects, improved by memory. Comparable with the biscuit of Proust or the newly-built ruins in nineteenth century romantic gardens. History as we dream it. As seen in a nightmare.
Situations like this are very rare. They are romantic in the strict sense of the word. You have to look for them. And most importantly, you need to be able to handle them intimately. This is aristocratic but not elitist. The idea is not to show something to a select group of people, or to exclude people. On the contrary: by isolating the visitor, it seems as if he becomes more intensely involved in the exhibition. It works better when you are alone. This is intimacy, not intimidation.
Visiting the Charlier Museum of Christophe Coppens, the visitor runs the risk of having to wait for his turn at the entrance in order not to disturb anybody. Inside, it is darker than usual. Near the entrance stands a big plexiglas signboard on which an explanation and instructions have hastily been written down: a kind of quick note. The paintings of the collection have been replaced by empty frames. Horrific white surfaces glare in a ghostly moonlight. The furniture on the ground floor has had to make room for the dollhouses. Snow-white showcases with high doors of glass inviting you to be opened. Blinding white satyrs on towering goat's legs.
This is craftsmanship, made from carefully-selected materials. The furniture invites you to look at it and touch it, sometimes even to smell it. Miniature houses of horrors with mysterious clockwork objects and strange light. Plastic, glass, animals, plants, new and old materials and techniques, symbolic references, direct quotations, everything is mixed up. And as a soundtrack, music which leads you into the atmosphere of a fun fair, a dream and a freak show all at the same time. Naked puppets in small lofts remind one of Salo or the 120 days of Sodom. Another puppet is tied up as Gulliver, through the wall between two tiny little rooms. In the room above are the keys to paradise. Some rooms are temptingly erotic, others are repulsively dirty. Some look crazily expensive, others incredibly cheap. Sometimes they are burlesque, like a scene from `The Adams family'. Sometimes grotesque, like a silent movie. Fear and desire
The word comes back several times: FEAR. Fear is what Coppens saw everywhere around him during the year and a half when he was working on these cupboards. Fear of being without money, of losing a relationship or a child. Extreme fear goes hand in hand with cynical indifference in this post Dutroux era. False fear as well, which sometimes has turned into a fait divers, into entertainment.. This work explores a social fact of life, but is at the same time very personal in the recycling of people's feelings and experiences. As in every good horror movie, fear is not isolated from desire. No paralyzing fear here, but fear which shows you that something else exists. Fear which creates a reality that is worse (more horrifying) and better (less banal) than this one. A kind of fear you would not keep to yourself, but which you cautiously try to share with others. A kind of fear which does not look for justification, but which prompts reactions.
I am looking for similarities with other artists. On my list I have names of animation filmmakers: for example, the brothers Quay, chiefly known amongst the broader public for their absurd, surrealistic clips with animated puppets and objects for MTV, or Jan Svankmajer, the Czech animation filmmaker, chiefly known for his version of `Alice in Wonderland'. And of course, Tim Burton, who in a similar way perverts the child's world in `The Nightmare before Christmas' or `Edward Scissorhands'. Rather unluckily, Burton made his first appearance as a designer in the animation studios of Walt Disney. Coppens was once a Disney fan, when a less creative period made him receptive to this candy creativity. Disney as a contemporary pendant of the romantic world of people like Van Cutsem. A Disney who tries to crack and solidify the private world. Disney as the banality. One should not think of it.
This exhibition is surprising. Sometimes it appears superficial, but it always touches you. It goes deep, propelled by great cinematographic qualities. A lot of attention has been paid to the soundtrack. As a basis, Christophe Coppens uses romantic compositions from the late nineteenth century: Mahler's `Kindertotenlieder' and Strauss' `Rosenkavalier' change imperceptibly into horror music from a Frankenstein movie. Snatches of popular songs and sometimes a ringing telephone punctuate the soundtrack. These are very direct references. Not very subtle, but they evoke effective and recognizable emotions. A song from `Music', the latest CD from Madonna (track number 9: `Paradise'), mixed with the Wiener Sangerknaben; Dietrich and Monroe, Billie Holiday, Louis Neefs, Tammy Wynette, Abba (`I Have a Dream') and Julio Iglesias; they all walk through the same house. Scary! Directed by Christophe Coppens
A year later Coppens tells me about the preparations for the next `Dollhouses'. He is very excited. These are going to be real sequels — like a movie. Moreover, `Dollhouse II — Life goes on' will not be presented in the exhibition room of the Brakke Grond, but in the big aula, which is used both as an exhibition hall and as a theatre. This is no coincidence, as this project consciously hovers on the borderline between an exhibition and a stage production. Objects are shown in an artificial setting, like on a real movie set. The set no longer serves as a place to live in, as was the case in van Cutsem's house. No. Real sets this time, only meant for looking at. Pure illusion. Also the cupboards are no longer meant to be used. They are no longer presented in an empty state by the maker (the decorator), as was the case at Charlier's place, where the owner (buyer) could fill the cupboards himself with personal objects. Here, it is director Christophe Coppens, who takes control. We are already looking forward to `Dollhouse III — The Return' and the first filmed images.
In the space of a year, things have become much clearer for Christophe Coppens. Whereas last year he was still hesitating between fashion and art, now he has put the whole thing more into focus. With time comes counsel. The success of `Life and Death in the Dollhouse' automatically led to interest from the art world and lack of understanding from the world of fashion and design. In other words: the market dictates. These are mechanisms which force themselves upon the designer.
Christophe Coppens has been struggling with this ambiguity his entire professional life. One cannot approach art with the mindset of a fashion designer. In the art world one does not work with seasonal collections, but with limited editions. Preferably, with unique pieces, like the showcases. In the world of fashion, it is not your best work that brings in the biggest money. It is rather the `safe' work. At the beginning of his career, Coppens had to choose between going bankrupt or adapting to the demands of the market. Now, he dreams of having two work studios. One for his fashion work, and one for his art.
`The Dollhouse' is an extremely ambiguous project. It is about the ambiguity of memory. It is about children and their fear of adults. It is about the closet architecture in which that which is explicit becomes hidden and that which is social functions via affinities. It is about the ambiguous line between art and commerce. It is about the selling which inevitably follows the presentation. These are ambiguous objects which draw their power from their presence and, later, even more from their usage. This applies both to the new accessories in the rooms and to the dollhouses themselves. One may easily forget, but these cupboards, although unique objects, were originally meant to be sold and used. When a personal piece of clothing or a beloved object is put inside, these decorated compartments quickly acquire a totally different look.
Christophe Coppens is like a sponge. He is a person who absorbs an enormous amount of information, current and historical, and who somehow weaves this information intuitively into his vibrant creations. History and current affairs, fiction and reality, everything is mixed together in this collection, which is actually a giant head to walk around in. The head of Coppens, who, as a `facteur Cheval' uses all his leisure time to tinker about with his curious projects. That is how it started ten years ago with his first unsaleable work. Today, little has changed.