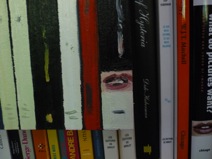 NL
enSuite start als een reeks ontmoetingen rond de imaginaire praktijk: de alledaagse praktijk van mediagebruikers die handelen met beelden, de bijzondere praktijk van kunstenaars en toeschouwers, alle mogelijke praktijken die de overgang maken van beelden naar verbeelden.
Om een toegang te vinden tot dat uitgestrekte veld, neemt enSuite het boek als leidraad. De abécédaire, het leerboek, het handboek, de catalogus, de gebruiksaanwijzing, de gids, de atlas, de encyclopedie, de kaart, het manifest, het menu, de index, de codex en al die andere tastbare en ontastbare, bereikbare en onbereikbare, toegankelijke en ontoegankelijke publicaties in het uitdijende archief achter de verbeelding.
Het parcours van enSuite, die aaneenschakeling van publicaties en archieven, is ook een aaneenschakeling van ruimtes. De volgende maanden beweegt enSuite van kamer naar kamer voor ontmoetingen, gesprekken en presentaties met verschillende partners in en rond Brussel. De neerslag daarvan – interviews, aankondigingen en andere teksten of beelden – worden gepost op deze website. Keer (on)regelmatig terug voor meer.
fase 1: met de a van abc
eerste presentatie bij recyclart
+ een gesprek met Femke Snelting
fase 2: met de a van archief
tweede presentatie bij recyclart
+ het archief van Manon de Boer (en Suely Rolnik)
+ de archieven van Sven Augustijnen en Anouk De Clercq
+ a text by Myriam Van Imschoot on a living archive
fase 3: loslaten: in gesprek met Peter Westenberg en Wendy Van Wynsberghe
fase 4: devenir imperceptible: een gesprek met Christine De Smedt
ENG
enSuite takes of with a series of meetings on the imaginary practice. From the everyday practice of media users, to the particular practice of artists and spectators or every other practice that makes the move from images to imagination.
To access this vast field of the imaginary practice, enSuite will be guided by the book: the primer, the text-book, the handbook, the catalogue, the manual, the guide, the atlas, the encyclopaedia, the map, the manifesto, the menu, the index, the codex and all other publications – tangible or not, accessible or not – that are part of the ever expanding archive behind the imagination.
The trajectory of enSuite, this concatenation of publications and archives, is also a concatenation of spaces. The following months, enSuite moves from room to room for meetings, talks and presentations with partners in and around Brussels. The resulting interviews, announcements and other texts or images will be published online. Come back for (ir)regular updates.
Een initiatief van / initiated by square i.s.m. / in collaboration with: auguste orts, constant, recyclart en / and sarma

met de steun van / with the support of de Vlaamse Gemeenschapscommissie (VGC) van het Brussels Gewest